2011 Youth Volleyball League Champions
2011 Women's Volleyball Champions "Klein Chiropractic"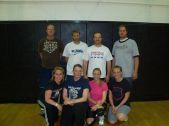 Co-Rec Lower Champs: Jeff Bullard, Ryan Noorda, Lee Lorimer, Scott Holland, Christina Noorda, Shelly Gardner, Sharon Lorimer and Veronica Holalrd
Co-Rec Upper Champs 2011: Trevor Cefalo, Molli Holmes, Greg Holmes, Mike Holmes, Trudee Klein and Lacey Farley
Co-Rec Adults
Played in the spring at the Box Elder High Middle School Gym. This has been a long time favorite for local families and friends. Two divisions will be offered to allow for teams to play just for fun with friends or step up a notch into the more competitive B league. Watch the local paper for league announcements or contact Jackie Christensen, Recreation Coordinator, at (435)734-6607.
Cost: $195
Play: Monday/Wednesday beginning March 26th
Registration: February 1st