Entertainment
Bill of Rights Plaza | 10am-5pm
Bring your lawn chairs and sit for awhile under the shade of the beautiful chestnut tree or join in by dancing with the band on the plaza grounds. Enjoy a variety of entertainment from traditional folk music to musical comedy and storytelling. No matter how you look at it, entertainment on the plaza is where to be during the Heritage Arts Festival.
Brigham City Proudly Presents:
THE ENDLESS WAIT
10:00 a.m. - 10:45 a.m.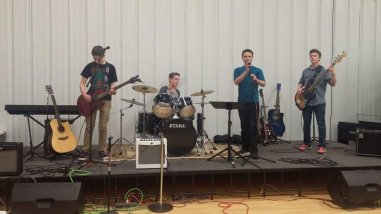 The Endless Wait is a new local favorite performing alternative rock & roll. Band members include Ryan Sorenson, Kaden Migliori, Julian Mitton & Zack Hansen.

BLUE SAGE BAND
11:00 a.m. - 12:00 p.m.



Featuring banjo, bass, guitar and fiddle, the Blue Sage Band is a high energy acoustic folk ensemble specializing in bluegrass, folk, western and americana.



AUSTIN WEYAND
 12:15 p.m. - 1:15 p.m.



The Austin Weyand Acoustic Band is a 5 piece ensemble that is rooted heavily in steel and nylon string fingerstyle guitar, country blues, 
popular music and originals with a little Spanish tinge along the way. Influences include the great acoustic guitar masters of the last several decades. 


CLIVE ROMNEY
1:30 p.m. - 2:30 p.m. 



Clive Romney is a composer, songwriter and storyteller with hundreds of published works and thousands of performances in diverse genres, two music CDs and a storytelling DVD.
IN CAHOOTS
2:45 p.m. - 3:45 p.m.
From Jackson Hole to Hamburg, Germany, and Park City to New York City, In Cahoots has had audiences laughing, clapping and singing along to their infectious brand of cowboy music and humor for more years than they care to remember. So pull on your Tony Lamas, cinch down your Stetson, and get ready to ride with In Cahoots!
B.D. HOWES
4:00 p.m. - 5:00 p.m.
B. D. Howes, a singer/song writer-musician and performer. Howes' songs are reflection of life experience, feelings and emotions. The band has performed throughout the Wasatch Front and has an acoustic Classic Rock sound of originals and a nice dusting of cover tunes.